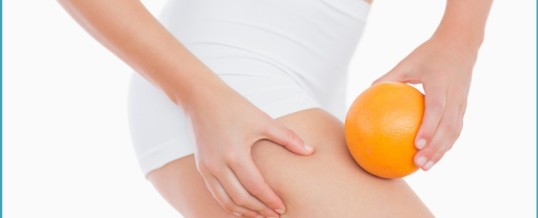 What is Cellulite?
Cellulite has been around as long as people have, but it was first noted as a condition in the 1920s and it affects both women and men. Its cobblestone appearance may resemble the lumpiness of cottage cheese or an orange peel. Of course, it is unmistakably recognizable by the person that wants to get rid of cellulite.
Cellulite's appearance may be due to extrusion of subcutaneous fat, which is five times thicker in individuals with cellulite, into the dermis, which is of normal thickness. Cellulite is known in the medical community by names such as: status protusus cutis, gynoid lipodystrophy, demopanniculosis deformans and adiposis edmatosa. Cellulite is somewhat of a medical enigma. Its etiology is not clear and the condition itself has been questioned in the medical community.¹
How to Get Rid of Cellulite
There are numerous treatment options available for the treatment of cellulite. Treatments range from natural home remedies to laser treatments costing thousands of dollars. Let's examine a few of the alternatives.
Body-Contouring Laser Treatment
Laser treatment, such as i-Lipo Ultra, Zone Life, is a non-invasive procedure that is available to reduce the appearance of cellulite over a relatively short time period. The sessions are reported "painless", and last about 10-20 minutes. The laser light is absorbed into the fat cells via 4 pads that are place on the skin in the area affected by cellulite. The light energy apparently causes the release of fat stored in the fat cells by opening pores in the cell wall. The fat is then absorbed into the lymphatic system and burned off during exercise.
After each of the 8-10 sessions, it is recommended that patients do a 20-30 minute cardio workout to facilitate the burn off of the released fat. Similar treatments include Zerona, Erchonia Medical Inc.'s, cold body-sculpting laser for the waist, thighs and hips and CoolSculpting; Zwltiq Aesthetics Inc.'s, cryosurgery system for love handles. ²
Cost: Up to $5,000+
Radiofrequency Energy Treatment
Radiofrequency (RF) energy treatment can be used to rejuvenate and tighten skin, and has been applied to the treatment of cellulite as a result. RF energy, electrical energy, is transformed into thermal energy in the treatment area. There are numerous devices that either use RF energy alone (with varying polarities), Thermage, Tripolar and Accent, as well as in combination with infrared energy, such as the Velashape/Velasmooth. Patient satisfaction rates vary, depending on the study, but generally range in the 50-94% range.³
Cost: Approximately $3,000 per treatment
Skin Creams, Fad Weight Loss Powders
When something sounds too good to be true . . . it usually is too good to be true. This was the impetus behind the U.S. crackdown on several products according to a Reuters Health Information Release, January 2014. The Federal Trade Commission (FTC) won settlement agreements from Leanspa LLC, Sensa Products LLC, HCG Direct LLC and L'Occitane, Inc.[4]
One of the biggest issues, advertisements that make unsubstantiated claims. For illustrative purposes only, 'sprinkle a little magic powder on your food and lose 30 pounds pronto without doing anything else'; a magic potion, hmm, I mean 'cream, that makes a 70-year old look like they are 15'? Absurd, I know, but you get the idea.
The cynicism is not meant to imply that there aren't treatments that are relatively simple that actually do work. There are creams that offer a money-back guarantee if your skin isn't 'firmed and tightened' etc., but before you blindly dive head first, and deep into your pocketbook, you owe it to yourself to check out any claims that are being made. Do the claims for this treatment, in fact, have substantiated information that can be verified? If the claim is, "clinically proven", then look for reliable verification that research does support that claim. Again, caveat emptor, or "let the buyer beware."
Cost: Varies $25 to $60/month+
Botanicals
What are botanicals? Basically, botanicals are products that are made from spices, stems, herbs, flowers, fruits and other plant materials. Botanicals have been used in the orient for millennia. Many of our earlier western drugs [5] were derived from botanicals. A number of botanicals may have been considered at some point in history by the pharmaceutical industry, but may not have been deemed economically profitable, effective for its proposed use at the time, or simply ignored.
Numerous products derived from botanical have been used to treat cellulite, such as aminophylline (otherwise used to treat asthma). At present, most only provide short-term improvement. This is great, but most are unfortunately touted to be "clinically proven", etc., causing the problems discussed above. One of the botanically derived substances used for cellulite is caffeine; however, special formulations are required to get it into the fatty tissues where its action takes place.[6]
Mesotherapy, Liposuction and Massage
Mesotherapy is a form of cellulite therapy with a European origin is based on the injection of various amino acids, enzymes, minerals and vitamins into the area affected by cellulite. Its effect may be due to breaking down the underlying fat, resulting in a slight improvement in the appearance of cellulite.
Liposuction involves the surgical removal of deep fat, not cellulite. As such, post-surgical results may prove worse in appearance than before by creating deeper contour depressions on the skin's surface.
Massage and spa therapies may improve the appearance of cellulite in the short term by facilitating the removal of excessive sub-dermal fluid. Of course, these therapies are much less problematic in terms of potential risks you might experience with invasive and surgical treatment, but their lack of a long-term positive effect is their biggest downside.
Bottom Line
There are a variety of treatment options to help get rid of cellulite. As long as you do a little homework to make sure that the claims being made are real and you understand the upside and downside of each option, you can improve the appearance of your cellulite without breaking your piggy bank. Of course, don't forget that weight loss and proper weight maintenance through diet and exercise, not only decreases the overall build up of fatty tissue, but also improves your general health.
Resources:
1. Noah S Scheinfeld, Daniel H Parish, Lawrence Charles Parish, A Primer of Skin Diseases Associated With Obesity, Expert Rev Dermatol. 2007; 2(4): 409-415.
2. Yael Waknine, FDA Clears Body-Contouring Laser Treatment, Oct. 04, 2010.
3. Michael H Gold, The Increasing Use of Nonablative Radiofrequency in the Rejuvenation of the Skin, Expert Rev Dermatol. 2011; 6(2): 139-143.
4. Diane Bartz, U.S. Cracks Down on Fad Weight-Loss Powders, Skin Creams, Reuters Health Information, Medscape, Jan. 07, 2014.
5. Examples of drugs derived from plants that are used in dermatology include: Salicylates (Salix alba), Tannins (Quercus robur), Podophyllin (Podophyllum peltatum), Methoxsalen (8-methoxypsoralen – Ammi majus) and Dithranol (anthralin – Andira araroba). Juliane Reuter, Irmgard Merfort, Christoph M. Schempp, Am. J. Clin. Dermatol. 2010; 11(4): 247-267.
6. Bertin C, Zunino H, Pittet JC, et al. A double-blind evaluation of the activity of an anti-cellulite product containing retinol, caffeine, and ruscogenine by a combination of several non-invasive methods. J. Cosmet. Sci. 2001 Jul; 52(4): 199-210.

Join Amazon Prime – Watch Over 40,000 Movies & TV Shows Anytime – Start Free Trial Now
Share